2024 HORNETS AGM
---
OCTOBER 13, 2023
CALGARY HORNETS ANNUAL GENERAL MEETING - NOTICE TO MEMBERSHIP:

Notice is hereby given to the Calgary Hornets Lacrosse Association Membership of the upcoming Hornets' Annual General Meeting to be held as follows:


| | |
| --- | --- |
| Date | Monday, November 27, 2023 |
| Time | 7:00 PM - 8:00 PM |
| Location | Brentwood Sportsplex - 2nd Floor, Main Hall |
| | |
| | |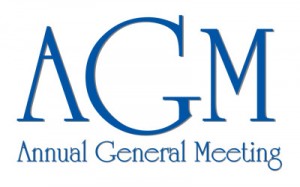 ---
Notice to Membership: October 13, 2023
Calgary Hornets Lacrosse Association's AGM has been scheduled to take place on Monday, November 27, 2023 at 7:00 pm at Brentwood Sportsplex, 2nd Floor, Main Hall.

At the AGM our 2024 Board of Directors will be elected. Below is a list of the positions that are up for election and their term.

Voting Member: Members in good standing over the age of 18 shall be entitled to one vote and a majority of the votes cast shall determine all matters except where a special resolution is required.



POSITIONS OPEN FOR ELECTION:


Vice-President 1
Term: 2 years
Current Nomination(s):

Treasurer
Term: 2 years
Current Nomination(s) - Incumbant has let their name stand
Equipment Director
Term: 2 years
Current Nomination(s) - Incumbant has let their name stan

Division Coordinator Director (oversees our Division Coordinators)
Term: 1 year (completing term of previous Director)
Current Nomination(s):

Evaluation Director
Term: 2 years
Current Nomination(s) - Casey Hiebert

Discipline Director
Term: 2 Years
Current Nomination(s):


If you have any questions regarding these Director Positions, please email your interest to: executivedirector@hornetslacrosse.com. Nominations will be accepted from the floor at the meeting.


Members interested in a Board Position are asked to complete the NOMINATION FORM.

All nominees will be given an opportunity to address the membership prior to their casting votes for the position. If a nominee is unable to attend, that nominee must provide a written statement no later than Saturday, November 25 to executivedirector@hornetslacrosse.com.
OPEN COORDINATOR POSITIONS - one year terms:
Division Coordinators ** Some of the Divisions already have one Coordinator, but if possible we would like two at each level.
CALLING ALL PARENTS: In order for the Hornets to carry out the month to month operations of the club, it takes more than a few members and in that regard we are looking to our membership to consider taking on a role as a Director or Coordinator.

BOARD POSITION DESCRIPTION and CROSS-CLUB COORDINATOR DESCRIPTIONS - CLICK HERE
* The Evaluation Associate, Coach Associate and Jersey Coordinator will work along side the appropriate Director and take some of the workload off of them by taking on some administrative work.

* The Social Media Coordinator will handle the Twitter, Instagram and Facebook pages for the Club between October and June.

* The Icebreaker Coordinators (between 6 - 8 individuals) will form a Committee to help with our Icebreaker Game Day that we held yearly before the season starts.

We are at the planning stages regarding our upcoming season and the more positions we can fill now the easier it will be to get the season off and running.

Please take the time to consider one of these positions and any help you can give will be so appreciated by the Board but also by the players, because IT REALLY IS ABOUT THEM!
The following documents will be added here when available:

Draft AGM Minutes from 2022
Draft Budget for 2023-2024
Agenda for 2023 AGM

Director Reports:

President Report
Treasurer Report
Evaluation Report
Coach Report
Equipment Report

If you have any questions, please direct them to our Executive Director (Debbie) at executivedirector@hornetslacrosse.com or if you want to add your name to the Slate of Nominees for a Board Position or want to take on a Coordinator Role.
Thank you in advance,
CALGARY HORNETS BOARD